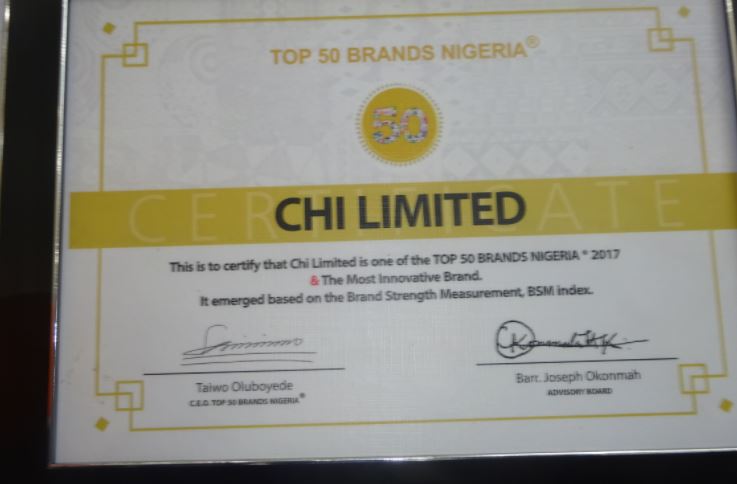 Every year companies strive to be more innovative through insights of new challenges and uncovering opportunities to create value. By being innovative, brands continually seek ways to reinvent themselves, propel growth and achieve market leadership that attracts industry recognition.
This was showcased at the recently held Top 50 Brands Nigeria Awards where Chi Limited, Nigeria's undisputed market leader in Juice, Nectar & Value Added Dairy products, was recognized amongst the Top 50 Brands and honoured as the Most Innovative Brand in Nigeria.
Renowned for continually enhancing existing brands, creating new product categories and effectively building emotional connection with consumers around them, Chi Limited's success story at the awards has been driven by a desire to churn out innovative products that are benchmarks and definitive standards in their respective categories.
Deploying specific criteria including brand popularity, category leadership, innovation, national spread, Corporate Social Responsibility and online engagement to measure brands, the Top 50 Brand Award evaluates and celebrates top corporate brands that have consistently maintained leadership position in their categories, living up to their promises, and have become a part of the popular culture, attracting powerful visual cue that evokes emotion from consumers.
Speaking on the awards, CEO, Top 50 Brands Nigeria, Taiwo Oluboyede, said with the volume of competition that businesses face, it has never been more important for brands to stand out through innovation as well as develop a unique identity and value proposition through strategic branding.
"The brands honoured at this year's edition of the Top 50 Brand Nigeria Awards have transcended their product/services categories and mean much more to the consumers. Specifically, Chi Limited has been outstanding in this regard through its consistent delivery of innovative products that have become household names in Nigeria," he said.
"It's recognition amongst the Top 50 Brands and the Most Innovative Brand Award is a part of the outcome of a painstaking year-long brand research which reviewed the brand's performance, classification and rating."
Mr. Deepanjan Roy, Managing Director of Chi Limited, expressed delight at the recognition and commended the organizers for creating an invaluable platform for celebrating brands that are at the forefront of their respective segments.
"For us at Chi Limited, these awards will inspire us on our journey of innovation-driven success. We are passionate about our brand and the strategic innovations that ensures a competitive advantage that places us second to none. We will remain steadfast in our commitment to healthy and superior products that add value and exceed consumer expectations," he added.
The Top 50 Brands Nigeria Award joins a list of recognition the company has received in recent times. They include the ''Most Innovative Fast Moving Consumer Goods (FMCG) Company'' at the Businessday Top 25 Most Innovative Companies and Institutions in Nigeria Awards 2017 and the Best Brand Equity Awards in Juice and Dairy category at Best Brand Equity Awards 2016 in Nigeria to recognize and honour some outstanding brands for their equity & consumer preference.
Was This Post Helpful: